Want an easy and efficient way to tighten battery terminal in seconds for cars,trucks,caravans & more...??
Introducing the Brand New  Quick Battery Terminals, a set of 2 quick-release battery terminals (Positive & Negative) that will make you are able to connect/disconnect your power source in just in a few seconds. 
Save Your time & Energy for more important tasks !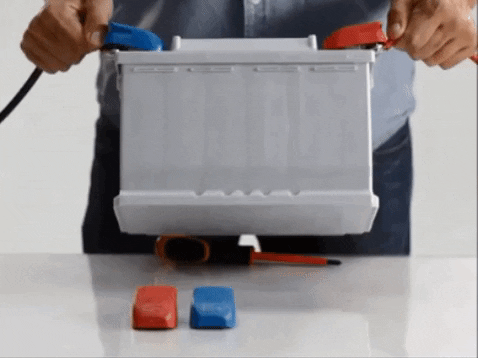 FITS MOST STANDARD ROUND BATTERY POSTS
FEATURES:
Color-coded

 

red clamp: positive, blue clamp: negative.
The cable is secured by screw clamp.
Quick release battery connectors fits SAE or DIN standard starter batteries or vehicle batteries. Can be used for cars, trucks, buses, boats, caravans, motor homes and special applications such as solar cells, mobile generator sets, electric vehicles, construction or laboratory equipment.
HOW TO USE? EASY !
Open the clamp up.
Place the clamp in the past.
Easily push the top down so that it clamps the battery post.

CAUTIONS
Make sure the clamps are a good tight fit and all the connections are clean.
Simply snap down the plastic cover for a strong and safe electrical connection and lift the cover for safe and instant disconnection.
Resistance Approx. 0.12 μΩ at 10 A. Certified to be safe up to 800 A.